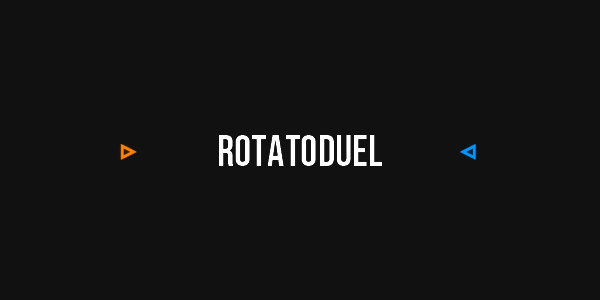 Rotatoduel
A downloadable prototype for Windows
What Is Rotatoduel?
It's a quick and rough prototype of a 2-player dueling game with wonky physics. It's not meant to be perfect or even to control well. Get ready to die because rotating and moving at the same time feels weird.

Controls!
Player 1 is Keyboard. Left Arrow & Right Arrow to rotate. Up Arrow to move forward. Hold Spacebar to shoot. Tap Spacebar to confirm readiness at start of game).
Player 2 is Gamepad*. Left Stick Left/Right or Dpad Left/Right to rotate. Left Shoulder 1 or (A) button to move. Hold down Right Shoulder 1 to shoot. Tap (A) button to confirm readiness at start of game.
*controls listed are for/were tested on an Xbox360 controller, but button positions will work regardless of gamepad used.

Known Bugs
Game takes several seconds to load despite being a small build. I'm unsure if that's because I'm developing on a 7 year old gaming laptop or not. Leave a comment if you have this problem and what kind of rig you have.
Lack of sound is not a bug. It's intentional. Sound might be added at a later date, it might not.

~~~~~~~~~~~~~~~~~~~~~~~~~~~~~
Donate?
Please consider supporting me via the donations feature here, or on Ko-Fi. I produce prototypes like this one for free and for fun, and I'd like to be able to afford assets and equipment for future creations. Oh, and coffee. I'd like more coffee too.

Download
Click download now to get access to the following files:
Rotatoduel Final 32-Bit.zip
20 MB